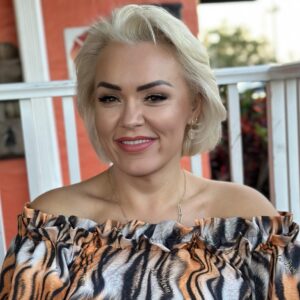 Izabela Lachowicz
United States
---
Country
English, Polish
---
Languages
nanoshapeofbeauty@gmail.com
---
E-mail
 I am originally from Poland and I have lived in the US since 2017.
As a child, I dreamed of studying in Beauty School, but my mom had different plans for me and she urged me to seek a career in accounting.
After University, I began working as an office accountant, but learned quickly that it was not for me. Two months later, I enrolled back in school and began to study at University in Zielona Góra. After 3 years, I graduated with a degree in social work and psychology and immediately started working as a psychologist.
A couple years later, I advanced to Director at a local private school, but still felt a disconnect in work. Recalling MY childhood dream, I began taking courses in nails and lashes.
While training in the beauty industry as often as possible, I began to work in my husband's construction and demolition company. In 2000, our company became larger than ever, so I decided to further my business education in order to help my husband. I enrolled in the University of Nottingham in England and later graduated with an Executive Master of Business Administration.
Our company grew to over 100 employees in 2009—all working in Poland, Germany and England.
The success of my construction company allowed me to open my own spa, and in my free time I continued my adventure with beauty training. I completed training in permanent makeup in several different schools—all in Poland and the Ukraine.
In 2016, I found herself eager for change and decided to travel to the USA to check out the beauty industry. Upon visiting, I was surprised to learn how behind the US beauty market was compared to Europe. I recognized the opportunity to bring the methods I had learned in Europe and teach people in the US how to achieve permanent makeup results that were beautiful yet natural looking with techniques the US had never seen before.
In 2017, my family and I moved to the US. I pursued and achieved my licensing as a tattoo artist and reached cosmetology certification as a Full Specialist. Shortly after, I decided to use the skills and knowledge from the past 10 years of work to create an Academy in the USA —an Academy that brings the most current solutions, from Europe, for brows and other areas, that not only last longer than microblading, but won't compromise the integrity of the client's skin. And many many others…
Trainings: Hyaluron Pen, Fibroblast, Hydra Derma Stamps, BB Glow, Permanent Makeup, Nano Micro Needling, Advanced Skin Care
---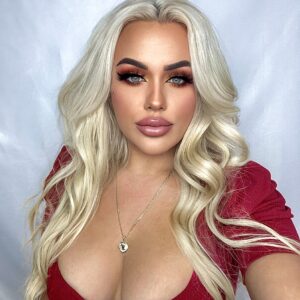 Julia Lachowicz
United States
---
Country
English, Polish
---
Languages
nanoshapeofbeauty@gmail.com
---
E-mail
My adventure with the beauty industry started when I was just 13 years old.
I completed a couple of classes in nails and shortly after I began offering services exclusively for friends.
When I was 15 years old, I took my very first training in lash extensions. After completing training, my mom, Izabela, supervised my everyday practice and mentored me into an expert level in lash extensions.
Soon after, I began to offer services at my mother's spa in Poland, before moving to the US in 2017.
Upon moving to the US, I earned my full cosmetologist and later tattoo license so that I could offer services.
In September 2018, I competed in The Beauty Factor's International Championship in Lash Extensions in Miami and was awarded 3rd place in mega volume. I had just turned 18 only days before the competition. This was the first I ever participated in.
Today, I try to contribute my deep knowledge, skills and methodology to our Academy.
Trainings: BB Glow, Eyelash Extensions
---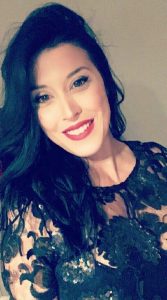 Ingrid Painvin
France
---
Country
French, English
---
Languages
nanoshapeofbeauty@gmail.com
---
E-mail
Hello I introduce myself I am ingrid I am 35 years old, I live in Castres in a small town near Toulouse.
Passionate about beauty from a very young age, I already told my mother at the age of 6 that I wanted to be "a doctor of beauty later so that all girls are beautiful".
In order to one day be able to exercise a profession in the beauty industry I left at the age of 16 in Carcassonne to study in a school of aesthetics.
At 18 I got my Diploma, After that I juggled between aesthetics and ready-to-wear while continuing to improve in nail art through training in different schools.
In the interests of personal recognition but also to have my professional independence, I therefore had the project of opening my salon in order to offer the services that fascinate me.
It was in 2018 that I opened my living room!  Always in search of the latest technologies, I first train myself in a technique that I found brilliant Microblading, then a few months later Microneedling in order to broaden my knowledge but also the services that I offer in my institute, since 2019 I  also realizes semi permanent make-up thanks again to training in an academy
At the beginning of 2020, I trained in haluron pen through the NANO SHAPE OF BEAUTY academy thanks to very professional trainers, very available with real knowledge of the profession.
In order to share all the techniques and the knowledge that I was able to acquire thanks to my 2 superb trainers IZABELA AND JULIA LACHOWICZ,
They gave me the opportunity to join them within NANO SHAPE OF Beauty and thus be able to offer you training.
Bonjour je me présente je suis ingrid j 'ai 35 ans ,je vis à Castres dans une  petite ville près de Toulouse.
Passionnée depuis toute petite par la beauté je disais déjà à ma mère à l'âge de 6 ans que je voulais être plus tard " docteur de la beauté pour que toutes les filles soient belle ".
Dans le but de pouvoir un jour exercer un métier dans le milieu de la beauté Je suis partie à l'âge de 16 ans à Carcassonne faire mes études dans une école d'esthétique.
A 18 ans j ai eu mon Diplôme , Après cela J'ai jonglé entre l'esthétique et le prêt à porter tout en continuant à me perfectionner dans l'onglerie grâce à des formations dans différentes écoles .
Dans un souci de reconnaissance personnelle mais aussi pour avoir mon indépendance professionnelle j'ai donc eu le projet d'ouvrir mon salon afin de proposer les prestations qui me passionnent .
C'est en 2018 que j'ouvre alors mon salon ! Toujours en quête des dernières technologies  je me forme dans un premier temps à une technique que je trouvais génial le Microblading , puis quelques mois plus tard le Microneedling afin d'élargir mes connaissances mais aussi les prestations que je propose dans mon institut ,depuis 2019 je réalise également le Maquillage semi permanent grâce encore une fois à une formation dans une académie
Début 2020 je me forme à l'haluron pen par le biais de l'académie NANO SHAPE OF BEAUTY grâce à des formatrices très professionnelles , très disponibles avec une réelle connaissance du métier.
Afin de partager toutes les techniques et le savoir que j 'ai pu acquérir grâce à mes 2 superbes formatrices IZABELA ET JULIA  LACHOWICZ ,
Elles m'ont donné l'opportunité de les rejoindre au sein de NANO SHAPE OF Beauty et ainsi pouvoir vous proposer des formations .
Trainings: Hyaluron Pen
---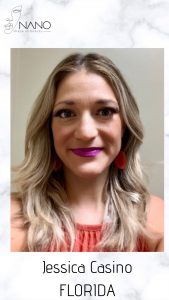 Jessica Casino
United States
---
Country
English, Spanish
---
Languages
nanoshapeofbeauty@gmail.com
---
E-mail
Hi!
My name is Jessica Casino and I am super excited to join Nano Shape of Beauty as a trainer!
I have been in the beauty industry for 20 years now. I currently own my salon in Palm City, Florida for 10 years now. I have been doing hair for 20 years and makeup the last 10 years. have always loved making people look and feel beautiful.
My goal as an owner and stylist is always to keep up with the latest and greatest beauty trends and products on the market from A to Z, which is why i am so excited to have these new innovative European techniques at my salon.
It's an added service in the salon that can help build your ticket to help woman look and feel beautiful with their new lips and skin.
Clients already trust our beauty expertise so its a definite "Why Not" learn and add them to our list of services.
I hope that as your trainer you can take these new and exciting techniques back home with you to share with your clients!
Trainings: Hyaluron Pen
---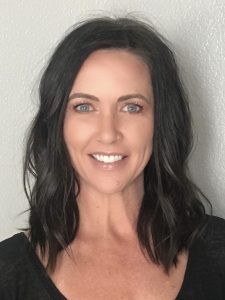 Angi Miko
United States
---
Country
English
---
Languages
nanoshapeofbeauty@gmail.com
---
E-mail
Hi, my name is Angi. I am originally from Michigan, but have called Las Vegas, Nevada home since early 2008. I live there with my husband and our two daughters, who keep me busy as a volleyball mom when I am not working.
I first entered the beauty industry in 2002 as a cosmetologist doing hair. Early in my career, the salon where I was working decided to add skin care services to their menu, and they asked me if I would be interested in being their esthetician. I agreed to do so and quickly fell in love with all things skin care!
It is my passion to help people feel their very best. There is a special kind of joy that comes from helping someone else feel more self confident. I have also always enjoyed teaching. I am excited and honored to be able to combine my passion for skin care with my love for teaching as a trainer at Nano Shape of Beauty.
I will always do my very best to continue learning and growing in this field. It is my goal as a trainer to provide the best, most up to date knowledge and support so that the people I train can fly!
Trainings: Hyaluron Pen, Hydra Derma Stamps
---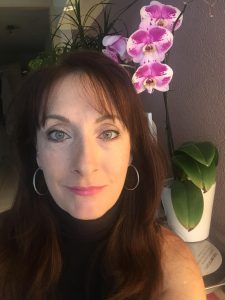 Geraldine Mottier
Switzerland
---
Country
French, Spanish, English
---
Languages
nanoshapeofbeauty@gmail.com
---
E-mail
Hi I am Geraldine, 48 years old, I live in Renens between Lausanne and Geneva.
Passionate about beauty since always, I was interested in the profession of esthetician but my parents finding no interest in it, I turned to the secretariat to become executive assistant while following beauty training. In 2007 I opened my institute of nails and aesthetics.
In recent years I have taken courses on the latest innovations in differents beauty schools.
I am glade with the Nano Shape Of Beauty academy to be able to offer you quality training and hight quality products. Looking forward to meeting you in these great beauty techniques
French
Salut , je suis Géraldine , j'ai 48 ans , je vis à Renens entre Lausanne et Genève . Passionnée de beauté depuis toujours , je m'intéressais à la profession d'esthéticienne mais mes parents n'y trouvaient aucun intérêt , je me suis donc tournée vers le secrétariat pour devenir assistante de direction tout en suivant une formation dans le domaine de la beauté . En 2007 , j'ai ouvert mon institut d'onglerie et soins esthétiques . Ces dernières années , j'ai suivi des cours sur les dernières innovations dans différentes écoles de beauté . Je suis heureuse avec l'académie Nano Shape Of Beauty de pouvoir vous offrir une formation de qualité . Au plaisir de vous rencontrer dans le cadre de cette belle technique de soins
Trainings: Hyaluron Pen, Hydra Derma Stamps
---