Customized Stayve BB Glow and Booster Starter KIT V2 
with QR Code Sticker as proof of genuine product.
(Remove the film paper first and scan QR Code with your phone)
Stayve Ampoule offers a more special effect than daily skin care products. Stave's premium ampoule serum with whitening and skin regenerating properties help alleviate major skin problems. It also provides immediate coverage and long-lasting beauty without overstimulating the skin.
Stayve Ampoule is a professional skin care product that can be used in various beauty treatments. The colour component of the formula brightens the skin and gives it a soft, glossy look. Its effective ingredients such as niacin amide and peptide offer wrinkle improvement and whitening effect. Enjoy noticeable wrinkle improvement, brightening, and BB glow all at the same time.
The BB GLOW Starter Kit includes all shades of the BB Glow and Booster Ampoules in one box for simple use.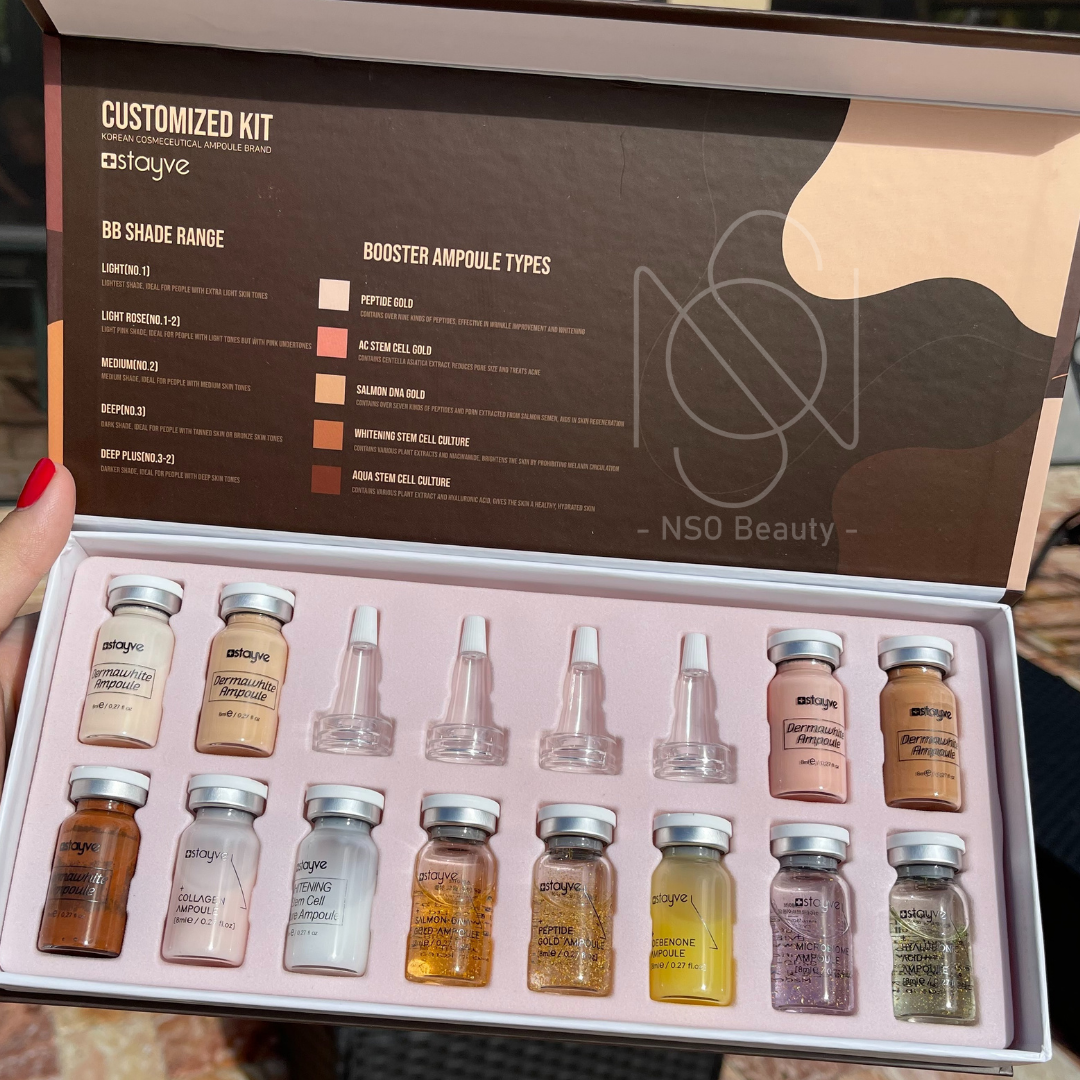 USAGE:
* 1 vial is for one procedure.
* Added effect by using MTS machine with nano or MTS cartridges
Pack size: 1 box, contains: 8ml/0.27 fl. oz x12 ea (12 vials in a box).
Expiration date: Indicated on a box
Country of Origin: South Korea / Made in Korea
EXPIRATION
2 Years from the date of manufacture
Use within 2 weeks of opening
Secure lid and store in the refrigerator after opening
CAUTIONS
1. Use of cosmetics should be discontinued if any of the following occurs:
Immediately contact your dermatologist, if you see any symptoms on your skin:
– in case of abnormalities such as red spots, swelling or itching during usage
– if the affected area has the above symptoms due to direct sunlight
2. Do not use in areas with scratches and/or areas with abnormalities such as eczema and/or dermatitis.
3. If it gets into your eyes, wash immediately.
4. Storage Cautions:
– Make sure to close the plug after use.
– Keep out of reach of children.
– Store in cool and dry place at room temperature, avoid direct sunlight
5. This product is the best to be used within 28 days after opening
6. Shake well before usage!
| | |
| --- | --- |
| Weight | 15.38 oz |
| Dimensions | 11 × 5 × 1.5 in |