This machine uses the harmonizing combination of golden RF fractional microneedling plus ice hammer to achieve powerful visible skin anti aging effects.
Treatment with this machine is not only one of the best ways to reduce scars and stretch marks, it is also ideal for safely providing long term skin tightening and wrinkle reduction.
6 in 1 integrated advanced technologies
RF Micro-nano Needling Therapy
Micro-needling delivery provides unparalleled collagen induction therapy via fractional delivery of needles into the epidermis and dermis. These micro-injuries to the skin encourage and harness the power of the body's innate ability to re-grow and repair the skin through the physiology of collagen induction. It is a Non-surgical skin rejuvenation treatment that is widely used for skin rejuvenation, enhancement of skin elasticity, wrinkle reduction, acne scar reduction, stretch mark reduction, stimulation of hair growth, whitening, and administration of active ingredients.
Our Radiofrefency device successfully combines the latest revolutionary Fractional. Fractional Thermal RF technology in one system is to achieve the most optimal treatment result for the skin.
Cold hammer soothes the skin and reduces any redness or puffiness following the other treatments.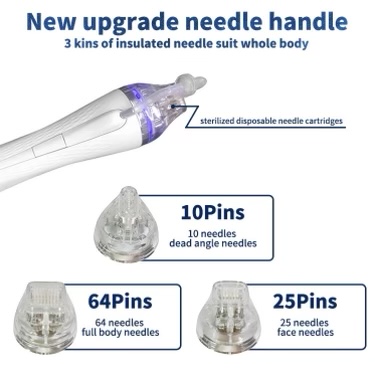 Features
One System with three functions
Fractional Microneedle radiofreqency function
Dynamic Linear Motor Technology
Accurate Needle Depth Control: 0.2~3.5 mm [0. 1mm]
Precise RF pulse time control by 0.1 sec
Provide Semi-Insulation Gold coated microneedles (Default) And Non-Insulated Needles (Optional)
Fractional Multipolar Needle RF with 10 needles, 25 needles, and 64 needles.
Fractional e-Matrix Nano RF Tips
The noticeable result after only one treatment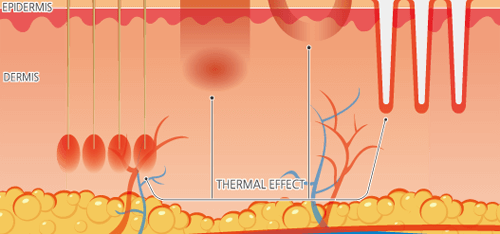 Differences between insulated and non-insulated styles:
The insulation style cartridge can achieve point-to-point energy. For example, the 2mm depth you choose will only release energy at 2mm
For non-insulated style cartridge, energy will be released from 0 to 2mm during operation, which means that the energy will be affected from the skin to the depth you set, and the pain will be strong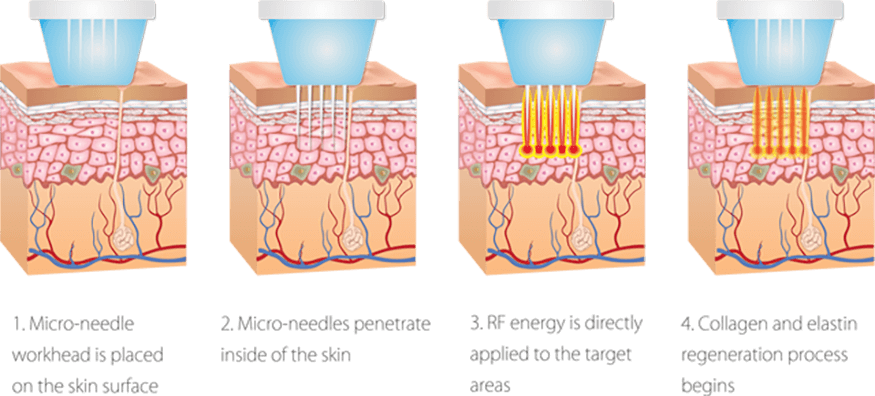 User-friendly software
Different from the existing Solenoid Type, the needle controlled by Dynamic Linear Motor Technology inserts to the skin softly and smoothly to greatly reduce the risk of bleeding and cause much less pain than other methods. The Dynamic Liner Motor Technology ensures RF energy is only released after the needle is completelv inserted into the treatment zone to avoid the potential risk of electric shock.
Accurate Needle Depth Control: 0.2~3.5 mm [0.1mm Step]
It operates the epidermis layer and dermis layer by controlling the needle depth in a unit of 0.1 mm. It is cost-effective and more convenient for different treatment conditions. Adjustable needle depth control allows for customized and reproducible treatments of delicate areas.
Face: 0.2mm to 2.0mm
Body: 0.2mm to 3.5mm