$152.90 not incl. 7% tax
In stock
Share
Details
The Oxytical Vial from South Korea normalizes the skin balance by providing a Botulinum serum effect and whitening at the same time. Additionally it is moisturizing, works as an antioxidant, improves elasticity and lifts the skin. Oxytical Vial Kit contains silk peptide fiber (99% purity) and core peptides.
How does it work?
The ingredients of the Oxytical Vial Kit are designed to completely absorb into the skin. When the 1st core peptide and the 2nd stable chitin are mixed together, they start to melt and once applied to the skn it instantly creats an invisible mesh, which help lift the skin and tightens the pores.
The snow lotus extract ingredient corrects the tone of the face, brightens the skin and helps with whitening. Other ingredients like bee venom help with relieving fine wrinkles, prevent aging and elasticity.
Main advantages
lifting effect of the facial lines and pore improvement
Moisturizing as it forms a moisture film
Works as an antioxidant which improves the skin elasticity
Improves elasticity and collagen production
Boosting immunity by promoting immune cells
Whitening and skin tone correction
How to use
Start of by cleansing your skin and following by using a toner
Insert the syringe into the top of the Core Peptide Vial KIT No.1 and fill with 4ml of content
Apply the Core Peptides into the Vial KIT No.2
Close the vial and shake well till everything is dissolved
Apply small amounts to your face starting from the face line and working towards the center of your face, repeat this a few times till fully absorbed
Repeat this procedure every 3 days.
What's Inside
No.1 Core Peptide 20ml 1 EA
Stable Chitin 0.02g 5EA
Elastomer tube 1 EA
Syringe 1EA
Manufacturer
South Korea
Storage Conditions
The shelf life of the core peptide is 3 years before opening and 12 months after opening
The shelf life of stable chitin is unlimited before opening and 12 months after opening
The shelf life of the mixed products is two weeks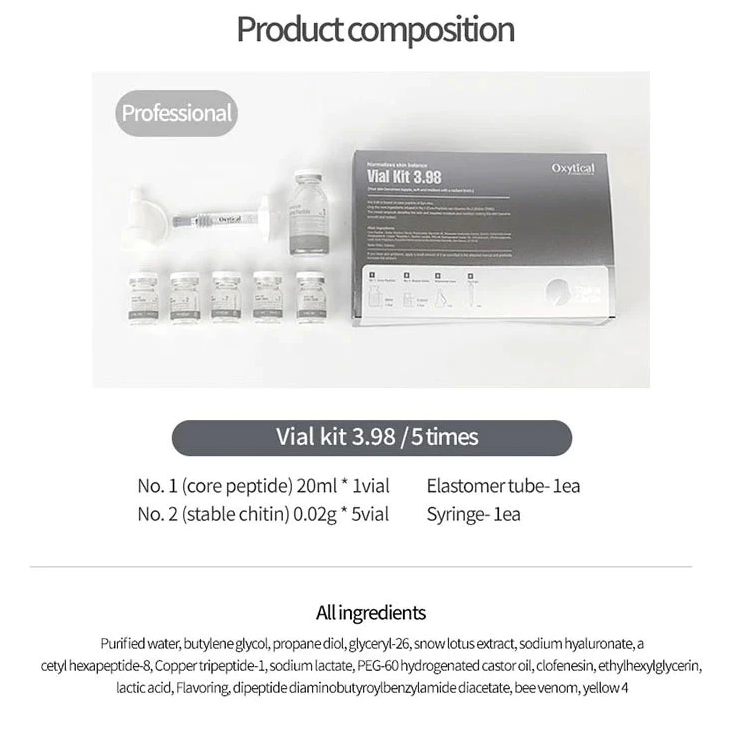 | | |
| --- | --- |
| Weight | 5.57 oz |
| Dimensions | 8 × 5 × 1.5 in |
Related products
$20.90 – $185.80 not incl. 7% tax