$273.90 not incl. 7% tax
Out of stock
Share
Dr. MAL consists of MAL (Methyl Aminolevulinate HCI)
ingredients, used for photodynamic therapy(PDT)*.
As a therapy that destroys sebum and inflammation, which are the fundamental causes of troubled skin, it effectively manages troubled skin and helps recover skin conditions.
01
When a pore with inflammation absorbs the Dr.MAL(Methyl ALA), it is transformed into Pplx.
02
Photodynamic Therapy refers to the process of irradiating the light energy of a certain wavelength, followed by the application of a photosensitizer, which selectively permeates into the sebaceous glands and pores, on skin. It helps improve troubled skin.
METHYL – ALA 13%
| Existing 5-ALA | VS | Dr.MAL |
| --- | --- | --- |
| Water-soluble | | Oil-soluble |
| Non-effective absorption | | Fast Absorption |
| Potential side effects | | Almost no side effects |
| Severe pain | | Almost no pain |
| Affects daily living | | No impact on daily living |
PANAX GINSENG CALLUS CULTURE EXTRACT
Methyl-ALA (MAL) minimizes the skin damage, pain which may occur during PDT. According to the reports by Wiegell and Wulf, MAL is reported to cause less pain, compared to ALA, while simultaneously having a short post-treatment waiting time with reduced PDT side effects, hence proven to be effective for treatment.
Therapeutic and Aesthetic Uses of Photodynamic Therapy Part five of a five-part series ALA-PDT and MAL-PDT What Makes Them Different.
-Michael H.Gold,MD
HIGH SATISFACTION LEVEL

1. Cleansing
Peeling helps the absorption of Dr. MAL
STEP 02Photo Dynamic Therapy
1. Application of Dr. MAL
1 vial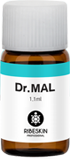 2. Incubation 20~25 min
The process in which the MAL absorbed by skin binds with inflammatory cells and sebaceous cells. Prevent light by covering the entire face with a wrap then covering it with blackout towel.
3. Removal
of remaining Dr. MAL
| | |
| --- | --- |
| Weight | 6 oz |
| Dimensions | 6 × 3 × 4 in |
Related products
$39.00 – $159.00 not incl. 7% tax

$19.00 – $52.00 not incl. 7% tax

$20.00 – $139.00 not incl. 7% tax