$148.50 not incl. 7% tax
Out of stock
Share
Check how it works here :
RIBESKIN CO2 CARBOXY THERAPY uses gel to deliver carbon dioxide to the desired treatment area unlike traditional carboxy therapy where patients are injected with carbon dioxide gas directly under the skin.
This unique delivery system makes RIBESKIN CO2 CARBOXY THERAPY a safe and effective treatment for those who wish to obtain the same anti-ageing and anti-cellulite benefits from traditional carboxy therapy.
The main principle of such therapy is that carbon dioxide penetrates into the deeper layers of the skin without violating the epidermal barrier and stimulates peripheral blood circulation. As the result, the release of end oxygen from red blood cells occurs and tissue oxygenation increases, which contributes to the detoxification and saturation of tissues and cells with active substances.
Such reactions can reduce cellulite, stretch marks, acne, inflammation, improve complexion and elasticity, and also control the balance of moisture and fat. Unlike other brands, Ribeskin CO2 contains up to 30 active natural ingredients and has a high carbon dioxide content of up to 10%. CO2 enhances blood circulation, dilates blood vessels, which contributes to the elimination of waste products of skin cells. CO2 also activates the synthesis of collagen and elastin, which helps to reduce wrinkles and prevent aging.
Non-Invasive Carboxy Therapy
Traditional Carboxy therapy is when carbon dioxide is injected under the skin whereby "tricking" the body into increasing the flow of oxygen to the site of injection. Dark under-eye circles, cellulite, and scars are believed to be caused, at least in part, due to poor blood-flow to that region. RIBESKIN CO2 CARBOXY THERAPY is a needle-less form of traditional carboxy therapy.
A Stretch Mark Solution
Traditional carboxy therapy has been used for over a decade to diminish the appearance of stretch marks. RIBESKIN CO2 CARBOXY THERAPY can help soften stretch marks as the carbon dioxide helps increase blood flow to activate collagen production and visibly decrease the marks on the body.
Completely Safe And No Discomfort
In the past carboxy therapy for treating dark under eye circles was potentially risky due to the chance of gas bubbles being released into blood vessels around the eye, which could lead to blindness. RIBESKIN CO2 CARBOXY THERAPY is completely safe, so you can achieve all the benefits of carboxy therapy without the risks.
Anti-ageing And Brightening Effect
RIBESKIN CO2 CARBOXY FACIAL THERAPY helps diminish fine lines on the face and neck while lightening areas of pigmentation. The treatment can also improve facial contours by lifting and tightening the skin.
RIBESKIN CARBOXYTHERAPY CO2 is an absolutely safe and hygienic procedure without disturbing the integrity of the skin. Suitable for all skin types. Youth, beauty and health of the skin of the face without injections!
Advantages of CO2 Carboxytherapy: ⠀
• Oxygen Skin Care ⠀
• Visible result after the first procedure ⠀
• No complications ⠀
• No recovery period
• One of the best carboxy products on the market
• Can be used during summer time
Indications for use: ⠀
• loss of turgor ⠀
• visible aging⠀
• puffiness⠀
• couperose
• pastoma of skin ⠀
Result:
• Improves skin appearance
• Improves skin texture and color
• Improves skin tone and increases elasticity
• Used to treat rosacea and vascular changes
• Strengthens the muscular frame
• Puffiness goes away
• Wrinkles are smoothed
For face
The gel penetrates to the muscle layer, thereby strengthening the muscles of the face, adjusting its oval and nourishing the vessels. The skin looks much brighter, fresher, smoother and more elastic after the first use. This procedure is also effective in reducing bruising, swelling, acne and post-acne. Carboxytherapy is absolutely safe for problematic and sensitive skin, as the gel has a calming and healing effect. Also, this tool can be used after peelings (enzyme, ultrasound) and combined with any hardware procedures. Suitable for both young and aging skin. A great alternative to mesotherapy.
RESULT:
• Skin elasticity
• Wrinkle correction
• Skin lightening
• Pore narrowing
• Reduction of bruises
• Puffiness Removal
• Acne treatment
For body
Carboxytherapy with Carboxy CO2 Combo helps correct body contours, improves skin elasticity and reduces cellulite. Also, this treatment is effective after surgery or in the postpartum period.
RESULT:
• Cellulite reduction
• Removing swelling and bruising
• Reduction of side effects after clinical procedures
• Improving skin elasticity
• Stretch Mark Reduction.
APPLICATION:
• Cleanse the skin, wipe with a tonic, squeeze the gel into a small container (10-12 pumps – 30 ml of gel)
• Apply the gel evenly on the skin
• Apply the fabric over the gel and press the edges of the fabric to start the reaction
• Leave the mask on for 20-30 minutes, then remove the canvas.
• Gently and thoroughly wipe off the remaining gel with a spatula or soft cloth.
• Rinse off with warm water. Then you can do your usual care.
COMPOSITION:
CO2 gel
• Water
• Bicarbonate of soda
• Glycerol
• Licorice Root Extract
• Common ivy extract
• Brussonetia
• Betaine
• Caffeine
• Potassium sorbate
• Filtered Snail Secret
• Carnation Flower Extract
• Brown tree bark
• Chestnut inner shell
• Camellia Chinese
• Horse Chestnut Extract
• Tiu East
• Portulak garden
• Green tea leaves
• Rice Bran Extract
• Seeds of Golden Beans and Violet Fragrant
Activating mask:
• Water
• Lemon acid
• Xanthan gum
• Carnation Flower Extract
• Cinnamon Bark Extract
• Chestnut Shell Extract
• Chinese camellia extract
Set include :
CO2 Mini 30mL x 5ea
Epiderm Plus Mask x25
Epiderm Plus Gel 15g
CO2 Brush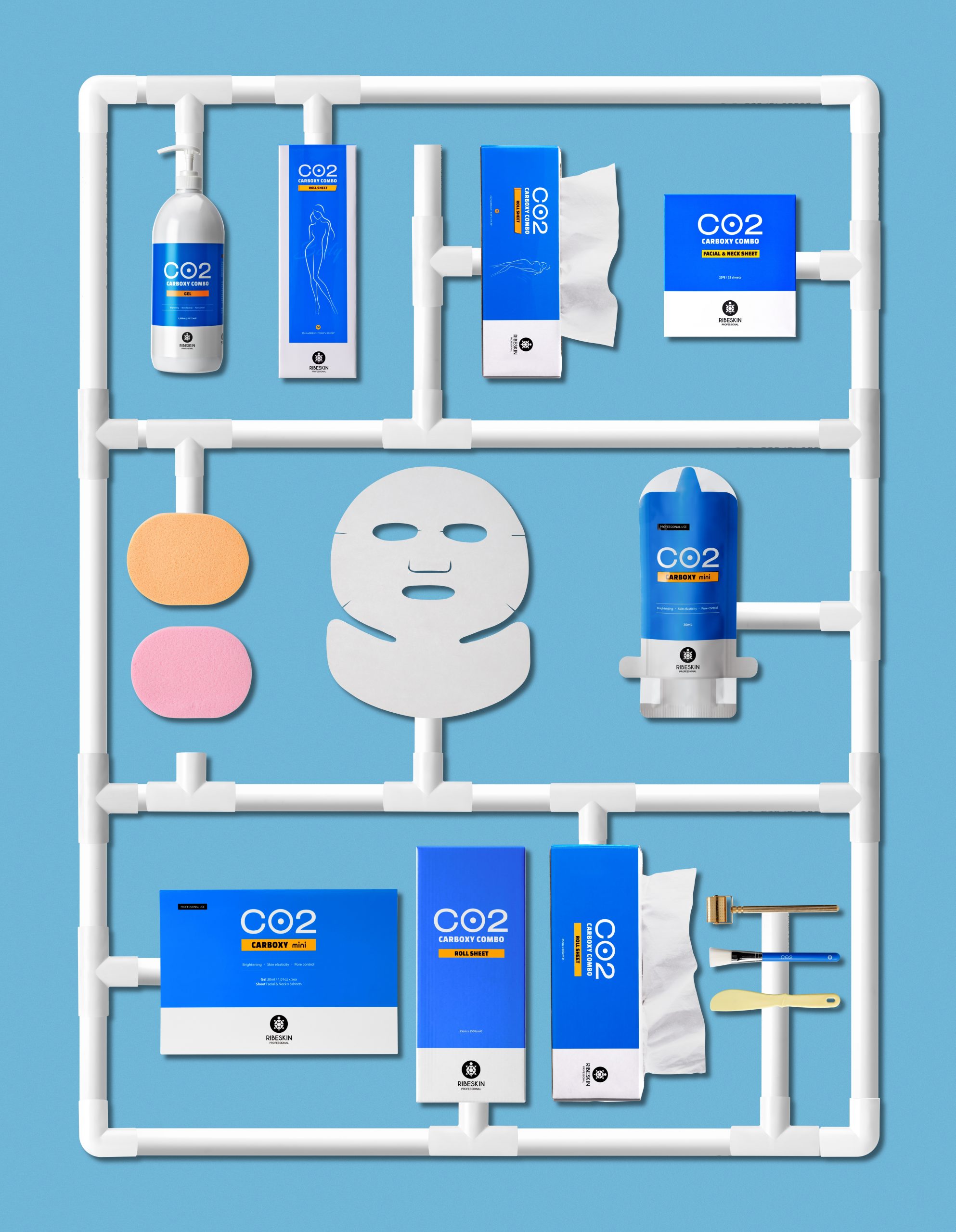 | | |
| --- | --- |
| Weight | 5 oz |
| Dimensions | 3 × 4 × 2 in |
Related products
$10.00 – $40.00 not incl. 7% tax